URL: https://it.desy.de/services/video_conferences/index_eng.html
Breadcrumb Navigation
Video Conferences
Webconferences
Cisco Meeting
The Cisco Meeting Server is operated by DESY IT and integrated in the DESY infastructure. Please see the Cisco Meeting page for detailed information.
---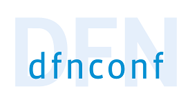 DFNconf
The new conference service - DFNconf - of the german research network is available since October 2018: https://www.conf.dfn.de/
DESY-Account holders can log in as hosts with their standard DESY credentials to book and use virtual meeting rooms (currently only available in german).
---
Zoom
Due to the corona virus situation and the increased usage of videoconferences, DESY purchased a few lincenses for the web conference tool zoom.us. To get an account (basic or licensed) please contact meeting.service@desy.de. See here for details.