URL: https://it.desy.de/services/operating_systems/macos/index_eng.html
Breadcrumb Navigation
macOS
Learn more about macOS support at DESY. Here you will find the most important topics, resources and contact information you need for macOS support at DESY.
---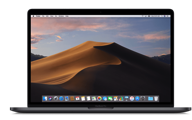 | Connect | Install | Configure |
| --- | --- | --- |
| | | |
---
Order
Apple devices or software licenses can be ordered through the AMS web interface: ams.desy.de
Your group administrator will help you with the order.
---
Help & Repair
Need a device repair or have further questions?
Please contact the UCO.
NOTE: The standard desktops that are currently fully supported by IT at DESY include Windows and Linux in a standardized configuration on defined standard hardware.
In order to meet the requirements of the increasing number of macOS devices, IT supports to the best of its ability.
---
see also
---